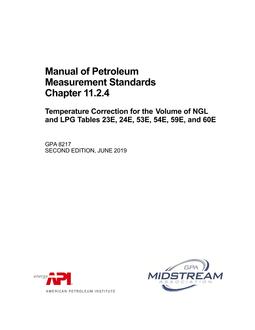 Description
API MPMS Chapter 11.2.4 – Temperature Correction for the Volume of NGL and LPG Tables 23E, 24E, 53E, 54E, 59E, and 60E, Second Edition (API 11.2.4 / GPA 8217)
Please note that any addenda or errata may not be included in translated editions of this standard.
This standard consists of the implementation procedures for the correction of temperature effects on density and volume of natural gas liquids and liquified petroleum gas. Sample tables, flow charts, and specific examples created from a computerized version of these implementation procedures are included. The examples provide guidance and checkpoints for those who wish to implement a computerized procedure to represent the standard, however these are not part of the actual standard.
This standard covers a 60 °F relative density range of 0.3500 to 0.6880, which nominally equates to a density at 15 °C of 351.7 kg/m³ to 687.8 kg/m³ and a density at 20 °C of 331.7 kg/m³ to 683.6 kg/m³. The temperature range of this standard is –50.8 °F to 199.4 °F (–46 °C to 93 °C). At all conditions, the pressure is assumed to be at saturation conditions (also known as bubble point or saturation vapor pressure).
Product Details
Edition:

2nd

Published:

06/01/2019

Number of Pages:

155

File Size:

1 file , 34 MB

Redline File Size:

2 files , 50 MB

Product Code(s):

H1102042R, H1102042, H1102042, H1102042R, H1102042, H1102042, H1102042, H1102042

Note:

This product is unavailable in Russia, Cuba, Syria, North Korea, Ukraine, Belarus, Iran